Meet Dr. Brandon Broadus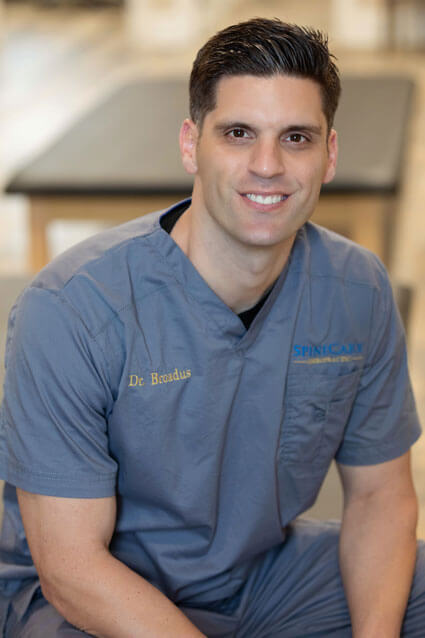 Experiencing the Benefits of Chiropractic
One day while he was working out, Dr. Broadus hurt his back. He experienced pain for about two weeks. His wife sent him to her chiropractor that she went to a year or so before. "I went to him and it was incredible. From my first visit, I was 50% better." Dr. Broadus realized then that he could become a chiropractor.
"I loved the energy, the office and the vibe. I knew what I wanted to do and then started looking at chiropractic schools."
An Extensive Education
Before embarking on his chiropractic education, Dr. Broadus attended the Charity School of Nursing to get an associate's degree in nursing, and studied at the University of New Orleans. Dr. Broadus then attended Parker University, where he received the following:
Bachelor of Science in Anatomy
Bachelor of Science in Health and Wellness
Doctor of Chiropractic
He also has training in posture rehabilitation with the Pettibon Institute.
Treating Each Patient As a Member of the Family
If you've felt like a number at other practitioners' offices, you won't feel like that at our practice. Dr. Broadus treats every patient that comes in just as he would like to be treated. He considers his patients to be family members.
EXPLORE CHIROPRACTIC »
Enjoying Family Life in Mandeville
When he's not caring for patients at his busy practice, Dr. Broadus enjoys spending time with his wife and their two daughters. He also enjoys watching LSU and the New Orleans Saints play.
Take that first step toward living a healthy, pain-free life. Contact us today to schedule an appointment with Dr. Broadus!

Dr. Brandon Broadus | (985) 400-5300