Chiropractic Care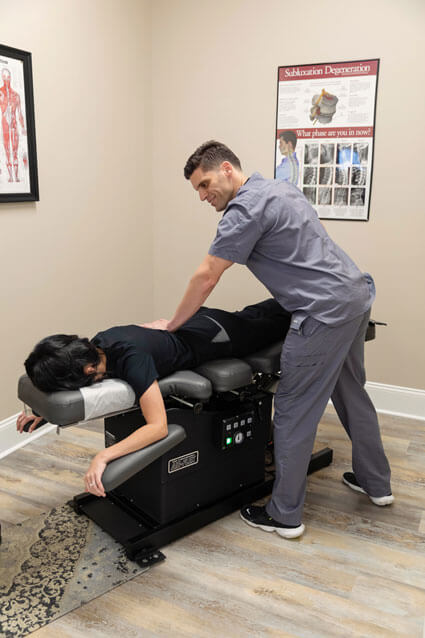 If you're new to chiropractic care, you may be wondering what it's all about. As a form of natural health care, chiropractic focuses on finding areas in the spine that aren't moving (subluxations).
Restoring Motion
Through the chiropractic adjustment, we aim to restore motion to joints in different parts of the body. These areas include the hips, lower back and the neck. By putting mobility back in those areas, we can help prevent future degeneration of that joint to keep the joint and spine healthy.
Benefits of Chiropractic Care
Here are some of the conditions that chiropractic care can successfully address:
Back pain
Herniated disc
Hip pain
Knee pain
Neck pain
Neuropathy
Shoulder pain
Sciatica
Chiropractic care also can promote better sleep, improve mobility, boost the immune system and so much more.
Our Techniques
Cox Flexion-Distraction : We use unique tables, called flexion-distraction tables to provide effective adjustments. Our patients love these tables because their back gets gently stretched. So for a patient with a herniated disc or a bulging disc, this technique feels good as it opens up their back.
Diversified : This type of full spine adjusting uses the hands to restore proper spinal alignment.
Activator Methods® : If you don't like to hear a popping sound during an adjustment, we offer gentle instrument adjusting with the Activator tool.
Intersegmental Traction : This technique uses a table to stretch spinal joints and improve mobility.
Electric muscle stim : The major objective of this therapy is to provide pain relief and muscle re-education.
Let Us Be Your First Choice in Care
For many patients, they've been elsewhere for care. Whether they've had injections or surgeries or been prescribed painkillers, they often haven't gotten the results they wanted. That's when they come and see us as a last resort. We get fantastic results for our patients. For example, we often see them get better over a few visits, and ultimately experience complete healing. We hope you consider us as your first choice in natural health care!
Our Three Phases of Care
Our first goal is to get you out of pain and restore motion to the joints that aren't moving. Through the chiropractic adjustment, we'll remove pressure and inflammation around the nerves and tissue in those areas. During this stage, we'll also introduce stretches to help with mobility and the range of motion.
After we get patients out of pain, we're still going to adjust the joint to stabilize their condition. We may use heat and stretches. A primary goal of this phase is to start building strength. We'll provide lower back and core strengthening for lower back issues and neck strengthening. Once we determine that your condition has stabilized, we'll do a release exam.
Also referred to as maintenance care, wellness care aims to keep your spine moving. Everyday wear and tear can impact the spine. That's why wellness care is critical.
Though every patient care plan is different, typically, our plans last between 6-8 weeks. At the beginning of your care plan, you will likely come in 2-3 times a week. When you reach the wellness or maintenance care phase, we recommend visiting us about once a month.
Contact us today to book an appointment. Insurance and Medicare are accepted.
CONTACT US »

Chiropractic Care Mandeville LA | (985) 400-5300